Reverse signs of ageing with less scarring, bruising & downtime
The face, more than any other part of the body, defines an individual to the outside world. With age, the effects of gravity, sun damage and the stresses of everyday life become apparent and can alter the appearance of a person's face. The majority of people want to recapture what their face has lost over time whilst still maintaining a natural appearance.
For many patients, a full facelift is not always necessary. Good results may also be achieved with less invasive treatments. A mini face lift surgery, available at our Gold Coast practice in Queensland works to effectively tighten the skin and restore a more youthful, radiant look. Dr John Flynn performs his minimally invasive facial surgery to:
Tighten the skin
Smooth deep lines, wrinkles and folds
Improve sagging skin in the cheeks
Improve sagging skin in the jowls
Restore a more youthful, refreshed look
The overall aim is the same as a normal surgical facelift but is lesser in extent and effect. Since this is a "skin only" level of lift and does not address the support tissues such as a normal facelift, a mini lift will also not last as long.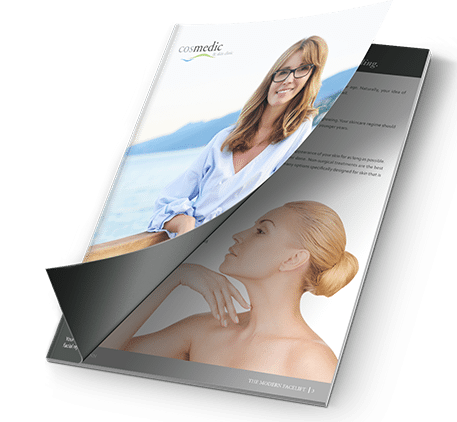 At a Glance
Mini Lift Procedure
A mini lift addresses wrinkles and sagging skin on the face. As opposed to a full facelift, a mini face lift targets the cheeks and jowls, rather than the upper face.  Benefits include a shorter scar and faster recovery time.
Mini Face Lift Procedure Time
Dependent on the individual requirements, the procedure will generally be performed in around 2 hours.
Mini Face Lift Side Effects
The potential side effects of a face lift procedure are more or less the same as they are for any surgical procedure. Side effects include temporary bruising, swelling, numbness and tenderness of skin. This will subside in 1—3 weeks
Mini Face Lift Risks
Injury to the nerves that control facial muscles or feeling (usually temporary). Infection, bleeding. Poor healing; excessive scarring. Asymmetry or change in hairline.
Mini Face Lift Recovery
Back to work: 7—10 days. Light activity is permitted within 72 hours. Bruising; 1—2 weeks. Must limit exposure to sun for several months.
Duration
Less invasive than a full facelift, the results of mini facelifts typically last about two to five years.
We are all unique and a good doctor's skill lies in retaining the elements that make us who we are.
What is a mini facelift procedure?
A mini facelift, is a whole new approach to facial rejuvenation. This procedure is minimally invasive as opposed to a traditional facelift, targeting sagging skin on the cheeks and jowls but not the upper face.
Also referred to as the Short-Scar facelift, this procedure is typically suited for patients in their 30's and 40's with early signs of ageing. As opposed to a traditional facelift, this minimally invasive procedure offers less scarring, bruising, downtime and surgical risks as it is a skin tightening procedure only and does not involve the deeper support tissue.
What are the mini facelift scars?
The incision line is placed at the front of the ear and extends behind your earlobe. These lines will be concealed within the fold where possible. The length and pattern of the incision depends on your individual needs, which will be discussed in more detail during your consultation with Dr Flynn.
| | |
| --- | --- |
| Also known as: | Mini lift, mini facelift, mini face lift, minimally invasive facelift, mini face and neck lift, mini face lift surgery, mini face surgery, mini lift surgery, MACS lift, short-scar facelift. |
| Desired results: | Patients have many different motivations for wanting a mini face life, but the desired results are generally a more refreshed and youthful appearance. |
| Patients visit us from: | Most of our patients are from the Gold Coast, Brisbane, Sunshine Coast and surrounding suburbs. We also see many patients travelling from all over Australia. |
Facial procedure step by step
A mini face lift allows incremental (step by step) small changes which can be spread over time without the dramatic, obvious effects of a "full" facelift. This type of approach fits in with the natural ageing process and allows corrections at appropriate times—"maintenance rather than rescue".
By taking cosmetic surgery gradually – over a period of months or even years – a patient is more likely to be satisfied with the outcomes. Scheduling the right "minimally invasive" procedure at the right time allows for more graceful ageing process. This approach is particularly suitable for both men and women under 60 and those who have had a previous facelift.
Combining cosmetic procedures
A mini lift can be performed in conjunction with other procedures such as eyelid surgery, neck lift surgery, facial liposuction and laser resurfacing.
Mini face lift cost
During your initial consultation with Dr John Flynn, he will address your concerns, outline the procedure and formulate a customised treatment plan. Based on this information, he will provide an exact cost for your procedure. Pricing starts from $6600 for a mini face lift.
Mini Face lift Surgery Gold Coast
Not all patient's are suitable for the mini face lift, it is therefore important to have a thorough consultation with Dr John Flynn who will assess your anatomy, your goals and evaluate your skin quality. Scheduling the right type of minimally invasive procedure at the right time allows for a more graceful ageing process.
To find out more information about our mini face lift surgery at our Gold Coast practice or to book in a consultation, please contact us today.