Breast explant surgery with a lift
Breast explant surgery, also known as breast implant removal surgery, is a viable procedure for women who no longer want their implants for a number of reasons.
Many choose to couple this with breast lift surgery, as this can help them to return as close as possible to their natural look and shape.
Reasons for removing implants
A rupture in the implant
Leaking implant
Breast implant illness
Sagging breasts caused by the weight of the implant
The implants have become displaced.
No longer happy with their appearance
The list is not intended to be exhaustive and as evidenced, ranges from personal preferences to medical necessities.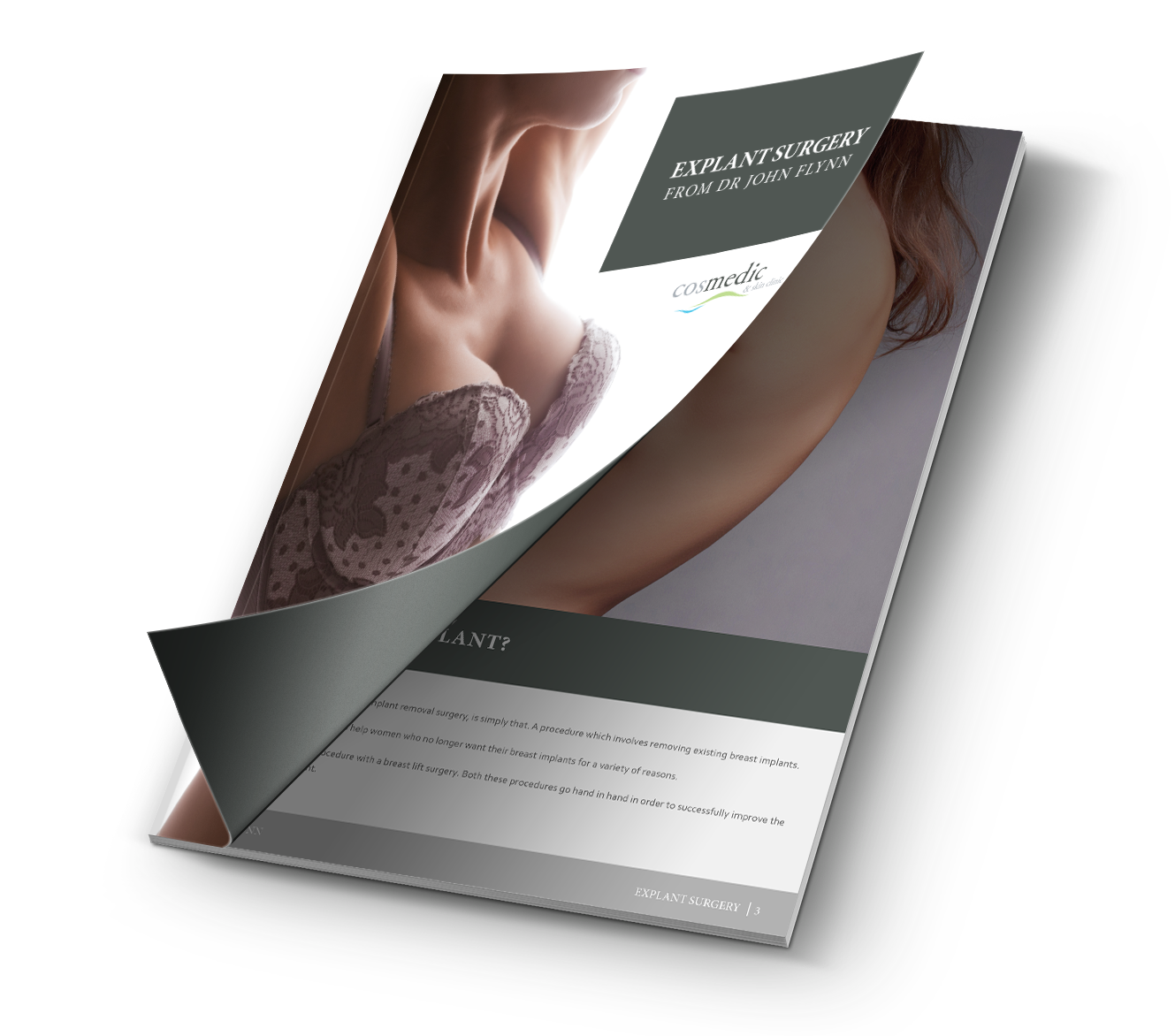 Breast explant surgery
The first step is to book a consultation with Dr John Flynn. With years of experience in plastic and cosmetic surgery, he will provide you with a comprehensive assessment of your circumstances to formulate appropriate treatment plans.
The process
This surgery is performed under general anaesthesia and can take between one to three hours depending on your circumstances.
An incision will be made in the same place where your implants were originally inserted, and the implant will be removed.
The effects of removal will depend on your skin tissue and its natural elasticity.
To perform the lift component of the surgery, excess skin will be removed, and the remaining will be tightened to give your breasts an appearance as similar as they were before surgery. If necessary, your areolas can also be resized to match your new breast shape.
Breast explant recovery
The recovery process is likely to consist of some downtime while the swelling and tenderness fade during the healing process. Patients should be able to return to work and other daily activities within 10 – 14 days' post-operation.
Breast explant with a lift Gold Coast
If you're considering having breast explant surgery or if you would like to learn more, please do not hesitate to contact us today.